Our outstanding team is here to help you reach your skincare goals. Contact us today.
Are you ready to start your skincare journey? Take advantage of our New Client Special Offer today!
We are excited that you are considering our office for aesthetic care.
Botox And Facials In Brookfield WI
Skin Source
Making you the most beautiful you! BEAUTIFUL SKIN IS HEALTHY SKIN. Every time you step foot in our door you will receive a customized facial, botox, or skincare treatment in Brookfield WI that is right for you! Our philosophy on skincare is unique, as we take pride in ensuring that you are in a relaxed, pampering atmosphere. Our goal is to give you medical grade results with each treatment. With over 15 years experience in the medical aesthetic field, we have learned to optimize and resource tools that are available for anti-aging. After analyzing your skin and your concerns we will customize a plan that is right for you. We will incorporate the use of the Osmosis philosophy, to get to the root cause of any skin issues you're having.
How Can Skin Source Help?
What makes our philosophy so unique is that our Brookfield WI aestheticians have the ability to treat the whole body from the inside out using a functional medicine approach to get to the root cause of the problem.
Hydrafacials In Brookfield WI
Skin Source is excited to announce HydraFacialMD™ as the newest addition to our skincare treatments.
This versatile treatment is appropriate for nearly all skin types. Along with improving the overall health of the skin, many other concerns can be improved or corrected with regular treatments. Enlarged pores, congested skin, hyperpigmentation, dry or dehydrated skin, advanced signs of aging, and even rosacea can be treated with HydraFacialMD™.
HydraFacialMD™ uses a series of patented HydroPeel™ tips, each uniquely designed to exfoliate the skin and achieve even results. The spiral design creates a vortex effect, easily dislodging impurities while simultaneously introducing hydrating solutions and potent antioxidants.
At Skin Source, we offer a variety of customized HydraFacialMD™ treatment plans, tailored to treat your skin concerns.
Treatments begin at $149
Packages available
Dermaplaning included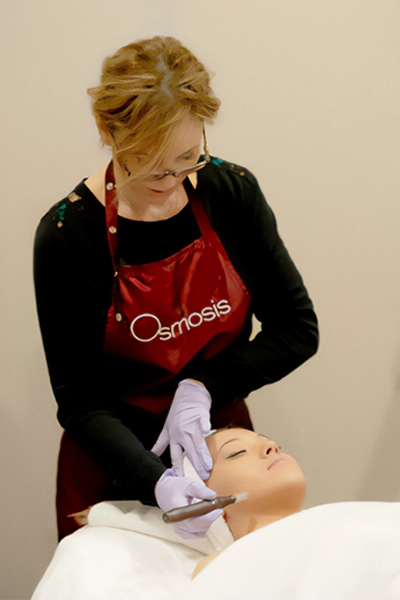 Facial Infusion Osmosis
Contains many collagen stimulators delivered with advanced liposomal technology that improves penetration of the active ingredients. This peel remodels the dermis and is gentle for all skin conditions. Facial Infusion can be customized to specifically treat acne, aging, rosacea, and pigmentation. Facial Infusion is a wonderful option used to boost/speed the results of the Osmosis protocols. It is unique because it avoids damaging the epidermis by penetrating several high-dose active ingredients into the dermis through liposomal delivery. Facial Infusion treats acne, aging, rosacea, and hyperpigmentation and can be customized by adding powder blends and actives for increased correction.
Dermaplane
A safe, non-invasive treatment which uses a special tool to lift dead skin cells. Dermaplane is performed as a standalone treatment or prior to other skincare treatments to enhance their effectiveness. This is a wonderful form of exfoliation that can be used with or without chemicals. This treatment does not require downtime and will effectively smooth acne scars and give you the smoothest possible skin.
Facial Treatments We Offer
A technique used that causes superficial dead layers of skin to slough off resulting in a revitalized and rejuvenated, less wrinkled, and smoother appearance. Chemical peels are categorized by the depth of penetration for the specific needs of the client. Chemical peels can reduce fine lines at the corners of the mouth and eyes, treat certain types of acne, treat wrinkles resulting from sun damage and the normal aging process, improve the appearance of mild acne scars, and treat age spots and freckles.
A purifying treatment which is formulated for clients who suffer from recurring problematic breakouts. It helps to refine texture and soothe irritated skin, leaving the skin calm and reconditioned. The glycolic acid peel in conjunction with the acne facial can be more effective in helping control eruptions. The Teen Acne facial includes a thorough assessment of your skin, deep cleansing, purifying exfoliation, steam for hydration, removal of impurities, an aromatherapy massage for toning and firming, and a purifying oil controlling mask.
This is an excellent choice for detoxifying all skin types. The active blend of lactic, glycolic, and salicylic acids effectively penetrates pores to dissolve impactions and blackheads. This gentle, deep pore cleansing treatment provides strong antibacterial and antioxidant action. Other benefits of this treatment include: killing bacteria, reducing inflammation, removing excess cell debris to leave the skin hydrated, purified and clear. Rejuvenate your skin and clear up acne and blemishes with this gentle, cleansing treatment.